In an age where social media advertising is a $16.3 billion business, launching a successful ad campaign on a social media platform is essential for a brand. In particular, creating a video ad that's adapted to mobile devices is the key to reaching a growing demographic of consumers. From 2015 to 2016, mobile video ad revenue climbed from $1.69 billion to $4.16 billion, and is expected to outpace, if not entirely replace, desktop video ads.
Of the social media platforms set to capitalize on the growth of mobile video advertising, Instagram is the one to watch. A recent report from digital benchmark agency, L2, revealed that in Q1 2017 Instagram far exceeded its competitors concerning video ad engagement: 16% engagement on Instagram versus 1.5% on Facebook and 0.3% on YouTube. With such an active user base, it's no surprise more and more advertisers are turning to Instagram as the platform for launching their video ad campaign.
Instagram's Advertising Potential
With an advertising behemoth like Facebook as its parent company, Instagram has both the support and role model to become a mobile advertising contender. By the end of 2017, it is predicted to comprise 10.6% of Facebook's total mobile ad revenue worldwide, which equivocates to over $2.8 billion in revenue. Instagram's advertising success is driven not only by a growing user base (it recently surpassed 700 million users worldwide), but also a constant rollout of new features for marketers.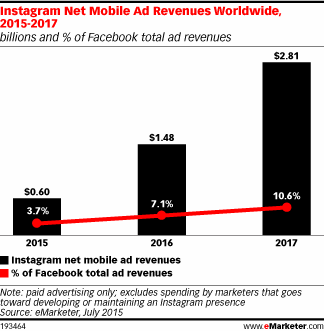 To get an understanding of Instagram advertising's potential, it helps to analyze how users use the platform:
The introduction of video ads into Instagram Stories at the beginning of 2017 was a major development that inspired brands to launch a video ad campaign on the platform. This was preceded by other developments that helped to construct the foundation of a functional and efficient advertising platform, including the ingratiation of the Facebook Power Editor and Ads Manager and the introduction of CTAs in 2015. Marketers could now reach the 400 million+ daily Instagram users through static photo ads, traditional video ads, carousel ads, and Stories ads. This variety of venues allows businesses to capitalize on one of the most highly engaged audiences on any social media platform.
Launching Your Instagram Ad Campaign
If you're familiar with launching Facebook ads, then getting an Instagram ad campaign up and running will seem very familiar. The first step is to establish an objective for the ad: brand awareness, reach, traffic, app installs, engagement, video views, or conversions. For a video ad, your objectives may be more restricted depending on your goal.
Then, establish your target audience (which includes custom options similar to Facebook). After setting the budget, it's time to design the video ad based on Instagram's specifications. According to industry insights, optimizing an Instagram video ad for best possible performance includes creating a captivating and concise caption, using relevant hashtags, and keeping the aesthetic and material on-brand.
When done correctly, an Instagram video ad campaign can lead to a massive increase in purchase intent, brand engagement, and ad recall. Perrier's captivating Instagram video ad campaign led to a seventeen point increase in ad recall and a four point increase in purchase intent. Lay's meanwhile, launched an ad campaign on both Facebook and Instagram. Their Instagram video ads resulted in a 5% greater reach, 3% lower CPM, and 5% increase in sales lift versus their Facebook campaign alone.
With no end in sight of Instagram's continued advertising growth, embracing their video ad capabilities is a strategy for all brands to adopt. Already, three-quarters of American companies are predicted to use Instagram by the end of 2017. The video ad engagement gap between Instagram and other social media outlets is the main draw for these marketers, and will continue to attract more into the future.
RECENT ARTICLES
Uncategorized
January 29, 2021
10 Tips to Improve ROI in Google Shopping Ads as Shared by Industry Experts
The year is 2021, and Google Shopping ads is a platform that has been the cornerstone to success...
Company Announcements
January 15, 2021
A Marketer's Guide to iOS 14: Taktical's Analysis of Problems and Solutions
When a giant like Apple makes moves, it affects everyone working in the digital space. For better or...
How To Guides
December 31, 2020
10 Instagram Hacks You Should Know About Going Into 2021
With more than a billion users, Instagram has grown into a social media platform that marketers can't ignore....
ADVERTISING
December 20, 2021
Using Instagram as a Shopping Platform
Using Instagram as a Shopping Platform If you are in eCommerce, you can't afford to ignore Instagram marketing....
ADVERTISING
December 17, 2021
4 Reasons Why Reddit is the Best Place to Advertise
4 Reasons Why Reddit is the Best Place to Advertise If you're looking for an alternative to Facebook...
ADVERTISING
December 7, 2021
LinkedIn Ads Best Practices
LinkedIn Ads Best Practices  We all know social media can do a lot to help you achieve your...
Guest Posts
December 4, 2021
The 10 Best Apps for Marketers
Small and large businesses alike have embraced digital marketing as one of their most important aspects.  In addition...
ADVERTISING
December 2, 2021
Why Advertising on Snapchat is a Good Idea
Why Advertising on Snapchat is a Good Idea When you think about which social media apps to advertise...
ADVERTISING
August 30, 2021
How B2B Guest Access Is Redefining The B2B Consumer Goods Business
Business-to-business (B2B) vendors often have to refine everything in their businesses, so that they can continue serving their...
ADVERTISING
August 17, 2021
20-Step Google Analytics Audit: A Guide To Optimal Performance
Google Analytics is something we spend hours exploring and learning from (weird, right?).  It's the best way...
Small talk
August 17, 2021
The Top 20 Best Facebook Advertising Agencies in NYC
There are a lot of great businesses who just can't take on the constant focus require to master...
ADVERTISING
August 17, 2021
Extremely Clickable Call To Action Examples & Phrases
Every time you put an ad in front of a potential customer, you want them to do something....
ADVERTISING
August 17, 2021
The Ultimate Guide to Instagram Ads in 2021
There's a lot of places you can spend your paid social budget. One of those places should be...
SUBSCRIBE TO GET OUR
LATEST GROWTH HACKS