If you haven't realized it already, Amazon PPC marketing can be a lucrative strategy.
Ever since it rolled out its self-service advertising tool in 2014, Amazon has been asserting its position among the major digital marketing players.
The e-commerce giant still has a far to go in order to catch up to Facebook and Google's established duopoly.
That being said, it is quickly proving to brands and marketers that Amazon advertising can be a lucrative strategy.
Consider the fact that 90% of media media executives believe the retailer can shift the power dynamic of the digital advertising world.
Additionally, its Q3 2017 earnings report indicated a 58% YoY growth in ad revenue after taking in $1.12 billion.
Advertising on Amazon has its benefits especially considering recent revelations about consumer behavior when it comes to product searches:
In 2016, a survey of online U.S. shoppers revealed that

55% turned to Amazon

to begin their product searches.

9 in 10 of those surveyed in the 2016 study said they use Amazon to check a product that they discovered on another retailer's site.

A 2017 UPS study of 5,000 consumers over the course of a single quarter showed that

29% of online shoppers began their search with Amazon

, compared to 15% that began with Google.
As these numbers prove, Amazon has serious benefits for brands.
In order to take full advantage of what this online retailer has to offer, you need to launch an Amazon marketing strategy, or optimize your existing Amazon PPC marketing campaign.
Here are five ways you can improve your Amazon advertising and reach the top of product search results.
1. Organize similar products together into one Amazon ad group
Maintaining organization for your Amazon advertising campaign starts at the ad group level.
It is here that you can set a structure that is both easy to understand and is convenient for optimization.
Once you've decided on the goals you'd like to achieve from Amazon marketing, placing similar products together into a single ad group ensures that they appear in any relevant searches.
In order to decide which products should appear, organize them by keywords.
Therefore, whenever someone searches for one of your items, any contextually related ones would also appear.
Thus, you increase your chances of conversion and upselling.
Keep in mind that products within an Amazon ad group may share similar keywords, but vary greatly in price.
This difference in price margins means taking extra care as you track and optimize your Amazon PPC marketing strategy.
Additionally, it means determining your target Advertising Cost of Sales (ACoS).
Instead of always aiming for a profit, you could have an ACoS to simply break in order to promote your brand in search rankings through increased sales.
Vying for a break-even ACoS is beneficial for businesses that are just starting to advertise on Amazon and have a greater need for achieving a higher ranking in search results.
2. Conduct keyword research to make your Amazon marketing more relevant
Like web SEO, Amazon SEO is based on how relevant a product is based on a customer's search.
However, unlike web SEO, Amazon's A9 algorithm determines relevance based on how likely the user is buy the product.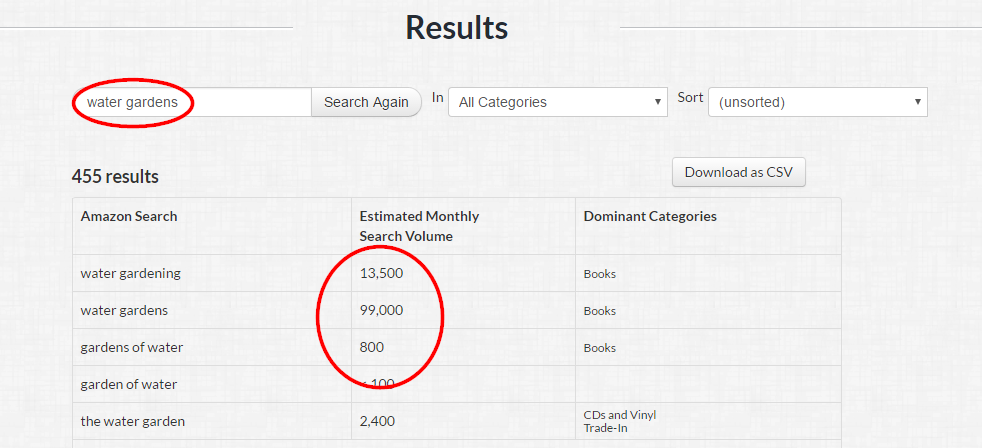 In the e-retailer's own words:
"One of A9's tenets is that relevance is in the eye of the customer and we strive to get the best results for our users. . .We continuously evaluate them [our ranking algorithms] using human judgments, programmatic analysis, key business metrics and performance metrics."
In terms of keywords, this means that they're still valued as Amazon as an indicator that your product will be desirable and relevant to the customer searching for it by context (versus brand name).
Using tools like Google Keyword Planner, MerchantWords, and spying on competitors to see what keywords they use, you can determine the keywords that best fit your Amazon PPC marketing campaign.
As Sun Product Corporation's Amazon PPC marketing campaign results prove, the right keyword research and targeting can yield massive results.
By using the automated keyword recommendation tools on the AMS platform to bid on over 80 relevant keywords, the company earned 35 million ad impressions in six months and enjoyed a 500%+ ROI.
3. Understand the difference between Amazon advertising SEO and Google SEO
As we just alluded to in the previous point, Amazon's A9 algorithm works differently than web SEO.
One of the biggest differences is that Amazon marketing SEO doesn't take backlinks/outside links into consideration at all.
Additional factors in product listings that matter to Amazon but not web search engines include:
Sales volume (aka Sales Rank): The more sales a product has, the higher it appears, as this is an indicator of customer satisfaction and performance.

Customer reviews: More customer reviews = better rankings.

Price: A lower price point increases a brand's position on search pages because a customer is more likely to buy a cheaper product that maintains good ratings and reviews.

Completion of product listing: The more information you fill out and the more keywords you get into the product fields, the more favorably the A9 algorithm looks upon your listing.
By understanding what matters to Amazon SEO, you can build an optimized Amazon PPC marketing campaign that gives your listing the best chance for success.
4. Create Amazon ad groups that range in keyword generality
Depending on how many products you're advertising on Amazon, the number and specificity of keywords will vary.
In order to maintain a level of organization and track your keyword bids, create Amazon ad groups based on keyword specificity.
For example, if you sell a variety of jackets you'll likely cover the following fields of both general and specific keywords:
Children's jackets

Women's raincoats

Men's parkas
For each of these, create a separate ad set.
Ad Set 1: General keywords encompassing "children's jackets" and all similar phrases (e.g. children's jackets, jackets for children).
Ad Set 2: More specific keywords focusing on "women's raincoats" (e.g. "rain gear for women", "women's rain jackets")
Ad Set 3: More specific keywords focusing on "men's parkas" (e.g. "men's winter wear", "men's winter coat")
5. Track your Amazon marketing results and adjust accordingly
As with any other digital marketing campaign, Amazon advertising requires careful data tracking and analyzing results.
Only by tracking results and testing can you optimize a campaign and achieve even greater success.
One area of your Amazon PPC marketing campaign you must track closely is your CPC bid.
This will differ for each keyword, but the same general rules apply for all:
If the ACoS is above the target value, decrease the bid

When the ACoS is below the target, increase the bid

If keywords aren't yielding any sales or impressions, try increasing the CPC bid to make them become active

In the case that over a longer period of time, still the keywords have led to no conversions, stop the bid
When results are followed closely and leveraged for optimization, they can improve Amazon marketing campaigns immensely.
In the case of Baggallini, they used the AMS real-time keyword tracking tools and performance reporting to improve their Amazon ads.
They then used this information to pause, increase, and decrease bids; they targeted new keywords; the brand cloned campaigns that were working.
As a result, Baggallini earned over 5X ROI with their Amazon PPC marketing strategy. 
Other companies might find third-party tools, such as an Amazon PPC audit provides the evaluation and insights they need to better optimize their campaigns.
To get the most out of your Amazon campaign and have the best tools at your disposal, partner with an Amazon marketing agency.
Though AMS provides some tools to marketers, a professional agency will have the experience, tools, and knowledge of Amazon advertising best practices to help you launch and optimize the most effective campaign.
RECENT ARTICLES
Uncategorized
January 29, 2021
10 Tips to Improve ROI in Google Shopping Ads as Shared by Industry Experts
The year is 2021, and Google Shopping ads is a platform that has been the cornerstone to success...
Company Announcements
January 15, 2021
A Marketer's Guide to iOS 14: Taktical's Analysis of Problems and Solutions
When a giant like Apple makes moves, it affects everyone working in the digital space. For better or...
How To Guides
December 31, 2020
10 Instagram Hacks You Should Know About Going Into 2021
With more than a billion users, Instagram has grown into a social media platform that marketers can't ignore....
Guest Posts
August 9, 2022
How to Dropship on Shopify
The dropshipping business concept enables eCommerce merchants to sell goods without carrying inventories. Establishing a Shopify dropship venture...
GROWTH HACKS
August 9, 2022
Growth Hacks #267
In this issue: Why you should wait to ask for credit card info, what reading level garners the highest...
GROWTH HACKS
August 2, 2022
Taktical Growth Hacks #266
Get the latest Taktical tips and tricks, plus more insights delivered each week: Sign up here.   What's in...
GROWTH HACKS
August 1, 2022
Taktical Growth Hacks #265
Get the latest Taktical tips and tricks, plus more insights delivered each week: Sign up here. What's in...
Tips & Tricks
July 25, 2022
Chatbots: How Machine Learning Will Improve Customer Experience
Today's consumers demand more than simple customer service. They want a brand that builds customer experiences through carefully...
GROWTH HACKS
July 20, 2022
Taktical Growth Hacks #264
Get the latest Taktical tips and tricks, plus more insights delivered each week: Sign up here. WHAT'S IN THE...
GROWTH HACKS
July 11, 2022
Taktical Growth Hacks #263
Get the latest Taktical tips and tricks, plus more insights delivered each week: Sign up here. WHAT'S IN...
How To Guides
July 7, 2022
How to Spy on Your SEO Competitors: A Competitive Guide
To keep up with the competition, you have to be engaged in a wide variety of marketing initiatives...
Tips & Tricks
June 30, 2022
Spy on Your Google Competitors with These Four Top Competitive Analysis Tools
Without a doubt, Google keyword searches are one of, if not THE most important battleground for the majority...
ADVERTISING
June 28, 2022
Claim Your Market: Powerful Affiliate Marketing Techniques
Claim Your Market: Powerful Affiliate Marketing Techniques Photo by aydinynr on istockphoto.com In order to be successful...
SUBSCRIBE TO GET OUR
LATEST GROWTH HACKS