After launching a Facebook marketing campaign, it's tempting to sit back and watch what happens.
Instead, there are always areas for improving and optimizing.  
Facebook marketing can:
-Drive traffic to your website
-Spread brand awareness
-Increase ROI through click-to-buy conversions
Regardless of your goal, there's an arsenal of tools and strategies at your disposal for maximizing the results from marketing on Facebook.  Even better, many of these are completely free. What it yields is anything but zero profit, though.
Done right, effective Facebook ads can bring in over 80,000 leads at just a fraction of the cost of other advertising methods.
Why You Need Facebook Marketing Tools
Facebook is an essential piece of any digital marketing strategy.
That being said, competition is the biggest obstacle to contend with in the course of creating, launching, and optimizing a Facebook marketing campaign.
To put it into perspective, here's what the contest for influence on the social media platform looks like:
In early 2017, there were 65 million Business Pages, and 4 million of these advertised directly with Facebook.
Average CTR for Facebook ads across all industries is 0.9%.
89% of small business owners claim Facebook helps promote their business in  conjunction with their Weebly site.
93% of social media marketers used Facebook in 2016, with 55% of marketers claiming it's their most important platform.
Facebook earned over $9.1 billion in advertising revenue in Q2 2017.
Run A Contest
Hosting a contest or promotion through your Facebook Timeline is an excellent way to boost brand awareness and user engagement.
You don't have to give away anything big, but keep in mind that the prize should be incentive enough for people to participate.
Software like Jotform Quiz Maker or Agorapulse lets you run a sweepstakes, quiz, or photo contest right from your Facebook page.
The tool lets you customize the contest, from which posts to to run the promotion on to how users interact with it. Then you can track comments and results.
It's a simple yet more effective way to launch and monitor a Facebook contest.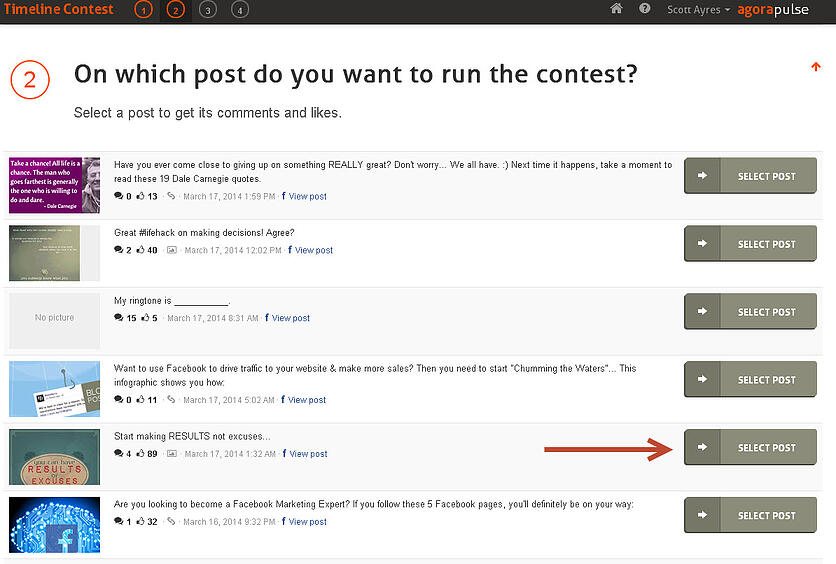 Using Facebook contests has been a source of success for many brands.
Diamond Candle, for example, ran a sweepstakes that required users to Like their page and submit their email. All of these people entered for a chance to win their own products.
While keeping costs low thanks to the prize at stake, they succeeded in accumulating over 30,000 new Likes in under six weeks.
Use Video
Video marketing campaigns on Facebook have gained immense traction.
A recent Adobe publication revealed that purchase intent increases 1.8 times for video viewers versus non-viewers.
Meanwhile, an Animoto study proved that 4 times as many customers would rather watch a video about a product than read about it.
The best strategy for using video advertising on Facebook starts with a piece of good content.
Free video editing software can help you create a professional-looking video and engage an audience right from the start. Stupeflix does much of the work for you, leaving you to select a theme and input the video, text, and music.
Optimize Your Headline
Getting the right headline is more than just a trick to attract views. This piece of content can also impact your brand's SEO and promote conversions.
Studies indicate that a headline between 12-14 words achieves the most Likes on Facebook.
Tools like Headline Analyzer takes this and other information into account as it helps generate copy that is intended to drive traffic, increase social shares, and improve SEO.
Stay on Top of Reviews
Keeping track of the comments and reviews about your business on Facebook is both a customer service and marketing strategy.
You can highlight the good reviews as testimonials. On the other hand, responding to the negative ones shows customers that you care.
However, depending on the size of your brand, monitoring all of your mentions and comments can be difficult.
Socialdraft lets you monitor your brand's mentions across the major social media channels. It also provides a weekly reputation report from across the web of the most important mentions.
All this is delivered right to your email each week.
Though Socialdraft is not free, it's a small price to pay for a tool that not only monitors your business' reputation, but also acts as an all-in-one tool for scheduling, organizing, and tracking your social media.
Post at the Right Time
Figuring out just the right day and time to post on Facebook will depend on the industry you're in and your target audience.
That being said, research reveals that on average the best days to post are Saturday and Sunday. Each experience an over 30% higher engagement rate than other days of the week.
The best times to post are in the morning and evening, at 9 AM, 1PM, and 3 PM.
Again, your audience and vertical type will influence engagement.
Don't let posting be a guessing gaming – utilize Facebook analytics to truly track the success of your posts.
With so many posts to track and optimize, using an organizational tool like Buffer can help you manage your Facebook campaign more easily. This tool is especially handy if your business operates on more than one social media platform.
The scheduling software lets you input up to 10 posts for one social media profile for free.
Additionally, it offers comprehensive analytics and tracking so you can see how your posts are performing. Then, you can make the appropriate adjustments.
Create Eye-Catching Content
Utilizing images and graphics on your Facebook page is essential.
Facebook posts with images are shown to increase engagement 2.3 times more than those without.
Using high quality images, an eye-catching design, or an infographic are all ways of creating effective posts to boost engagement.
For generating beautiful content, Canva is an excellent design tool.
Choose from a variety of preset themes and design elements, then simply drag and drop to customize the final product. 
You can save the design for use in a future post, or immediately share it to your Facebook.
This tool makes it easy to generate high-quality visuals for any Facebook post or ad, regardless of what industry you're in.
When running Facebook ads, the quality of the creative content used is crucial.
It also presents an opportunity for A/B testing and tracking. You can switch between the visuals used to see which performs better.
In order to monitor how your ad is performing and how best to optimize, AdEspresso is the tool of choice. Though it's not a free software, they do offer a free trial.
Not only does AdEspresso offer customizable tracking information so you only focus on the metrics that matter, but also their software provides suggestions based on the campaign's results to help you maximize ROI.
So, if the creative part of your ad just isn't cutting it, or one version is outperforming another, this tool tells you exactly what the problem is and offers tips for improvement.
Using the tools available to you for improving your Facebook marketing is an excellent way to get ahead when the competition is stiff.
Whether you're running a Facebook ad campaign or are just looking for ways to improve your business' Facebook page, these are all strategies for benefitting your brand's presence on the social media platform.